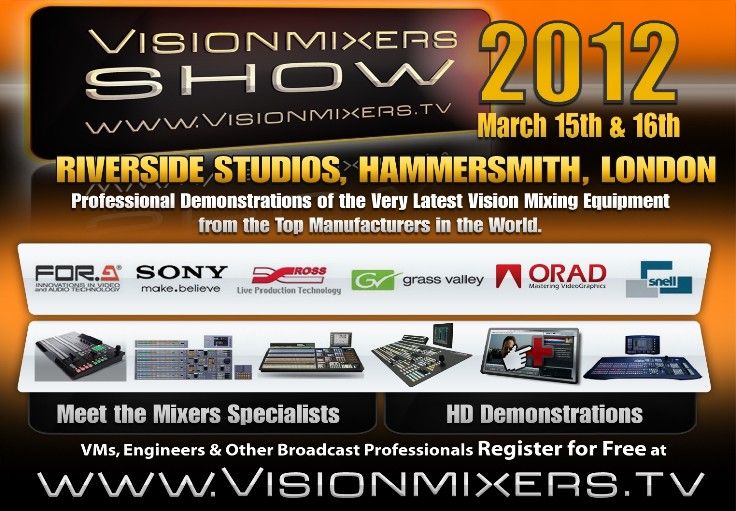 The second Vision Mixers Show organised by the Guild was another great success,
and this year our hosts were Riverside Studios in Hammersmith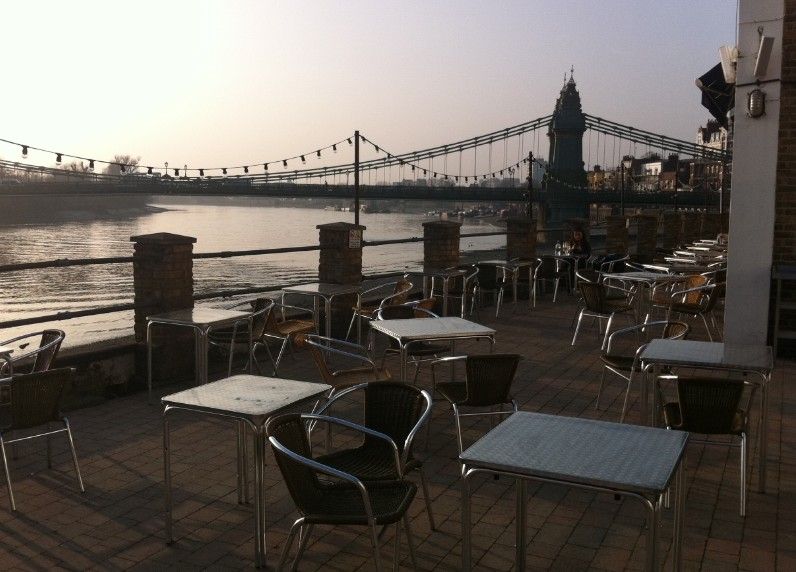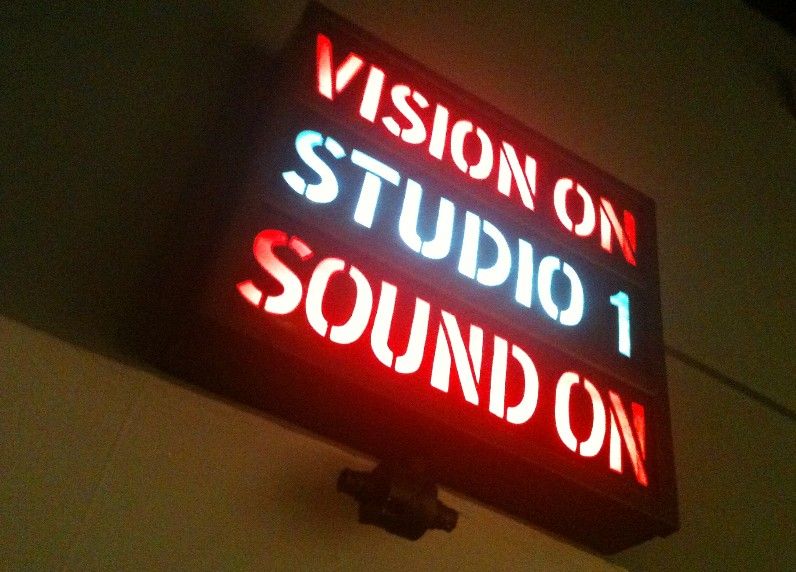 The venue was Studio 1, and on display were offerings from
Sony, Grass Valley, Snell, Ross, For-A, and newcomer Orad.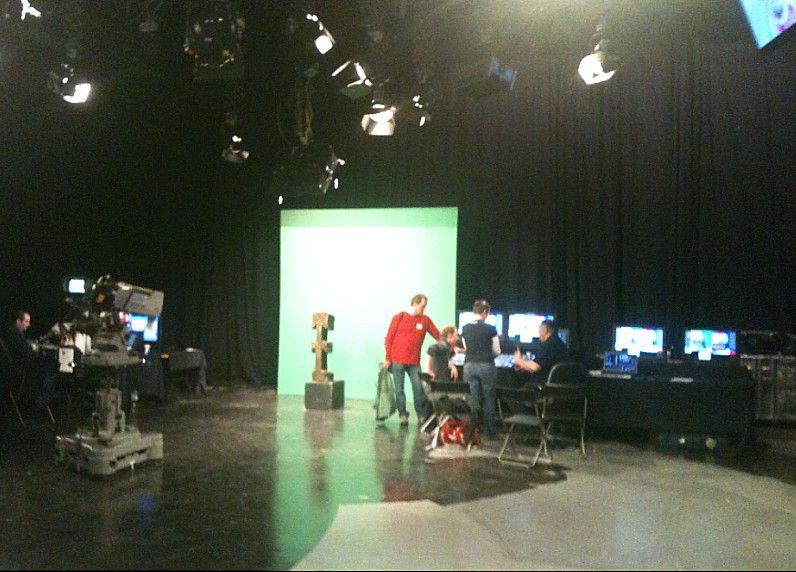 Guild stalwart Trevor Bailey was on hand to welcome members to the event and explain what was on offer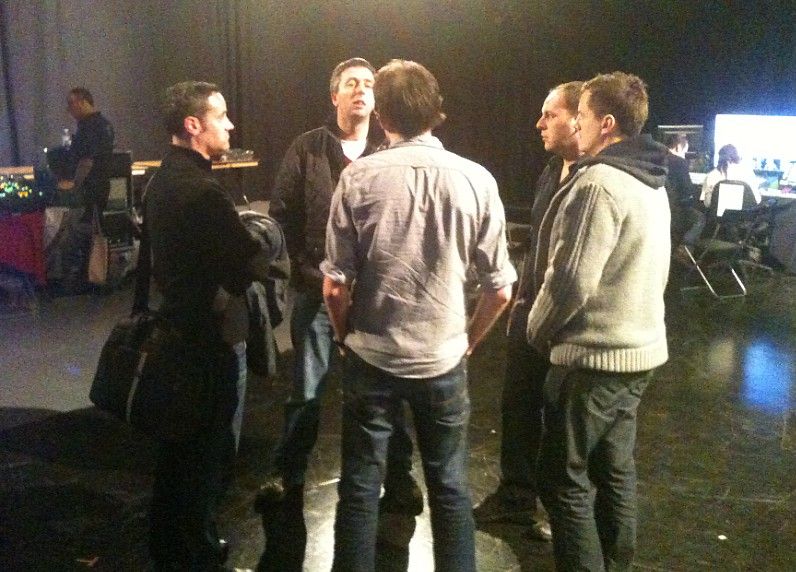 The first stop was Sony Broadcast. Phil Moss was demonstrating the new
MVS 7000 X
to Guild members Diana Enser and Carol Abbott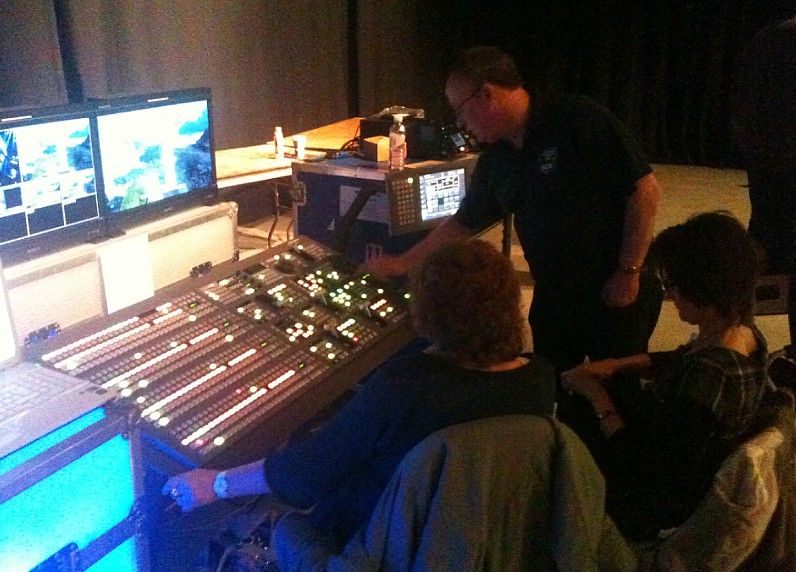 Next was Snell Group's Multiformat
Kahuna
. Jodie Brown was on hand
to give 30 minute workshops, in this case to Rory Ward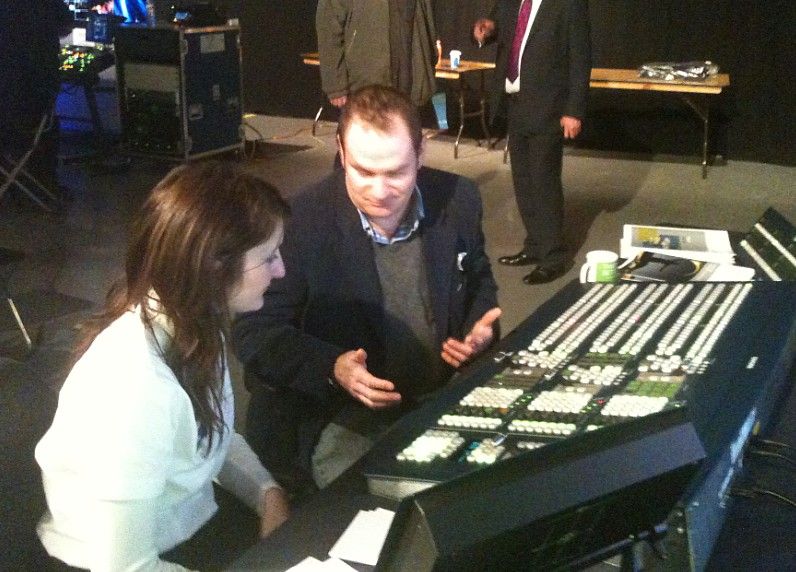 Incidentally, as well as having units at Granada Studios, & Neon Outside Broadcasts,
our hosts Riverside TV also have one in daily use up in their production gallery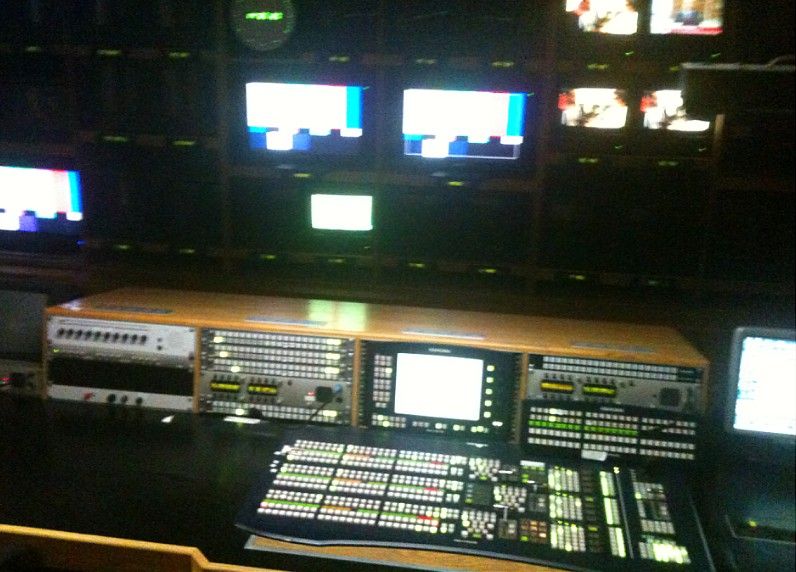 Moving further round the room, and travelling past an impromptu chromakey set......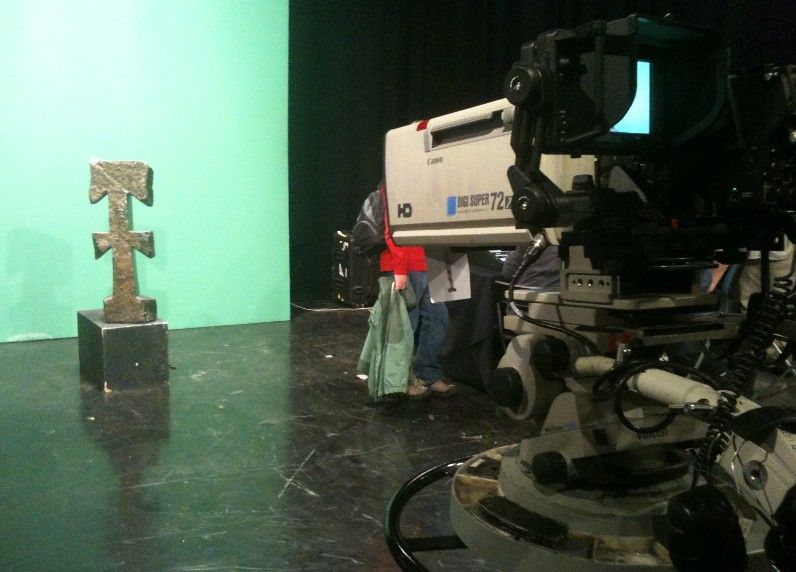 Grass Valley were to be found with John Willis demonstrating the new
Karrera
mid market desk based upon the highly successful Kayenne
Here Guild member Nick Swain takes his first tentative steps towards operating the new mixer
with Paul Mitchell, Monica Coyne & Paul Ribi looking on.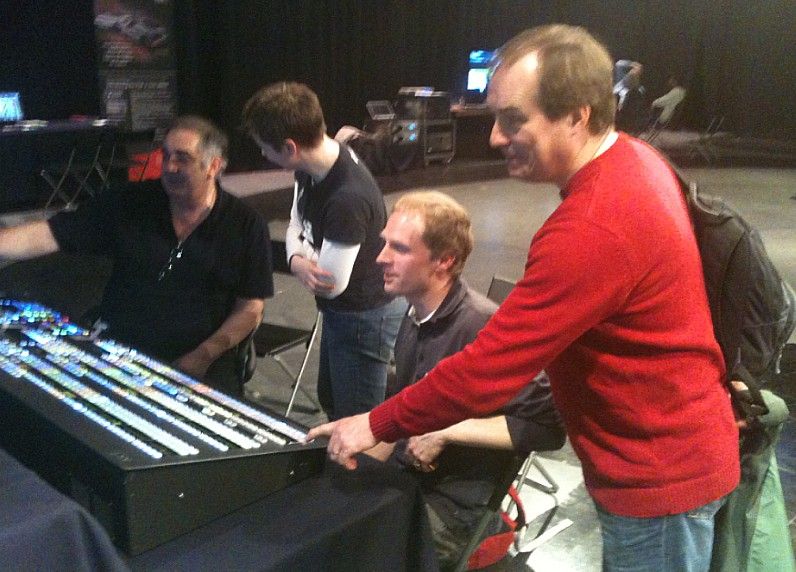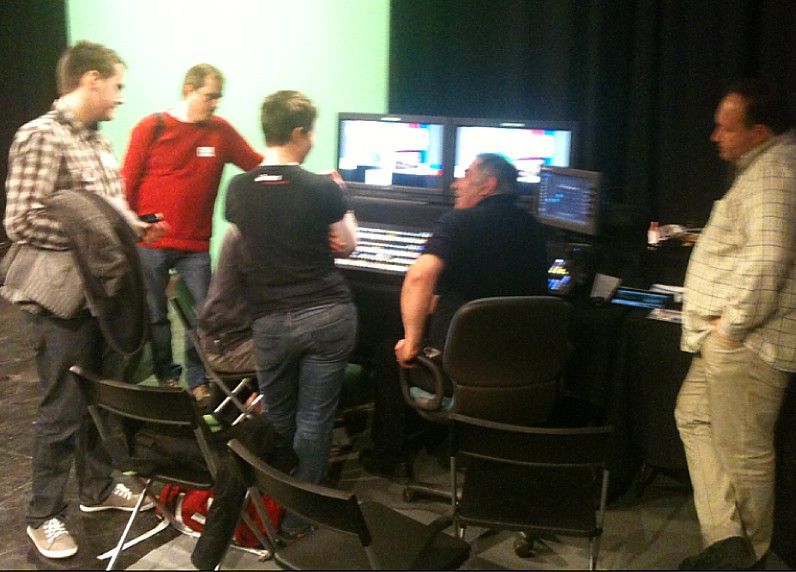 Next stop was For-A with Peter Dinsdale demonstrating the new
HVS 4000 HS Hanabi
to Guild members Denise Foley and Kay Harrington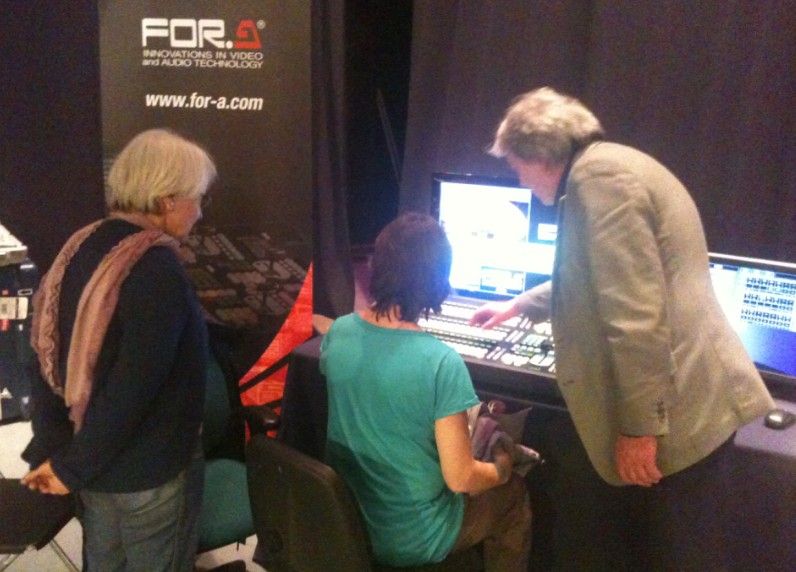 New to the Vision Mixers Show this year were Orad, demonstrating their unique
TD Control DVE
This stand alone device works in conjunction with an existing switcher to produce fast and easy to set
boxes for live 2 ways, or even multiple complex moving tiles for video walls, all with integrated backgrounds and text.
Naomi Neufeld, Mary Kellehar, Richard Scollard & Sarah Giles-Harling
all looked on as the Orad touch screen system was demonstrated.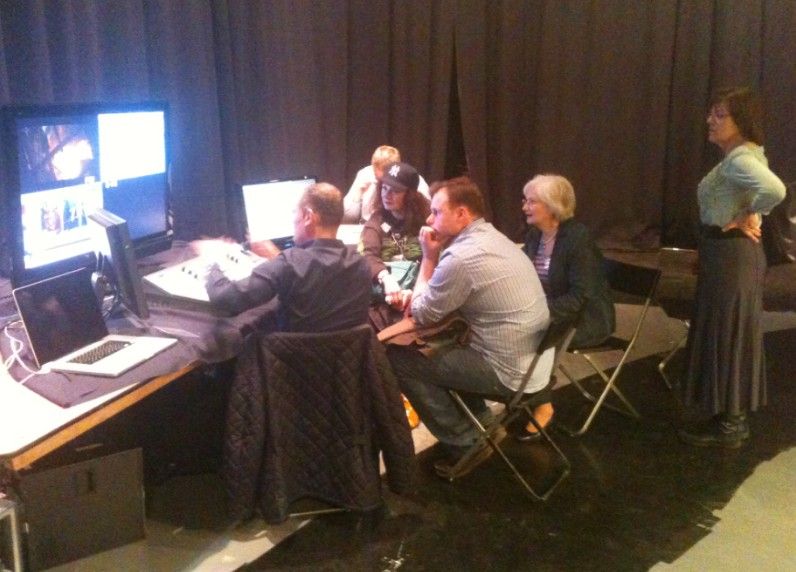 There was even a surprise guest appearance made by a Grass Valley Kayak to aid proceedings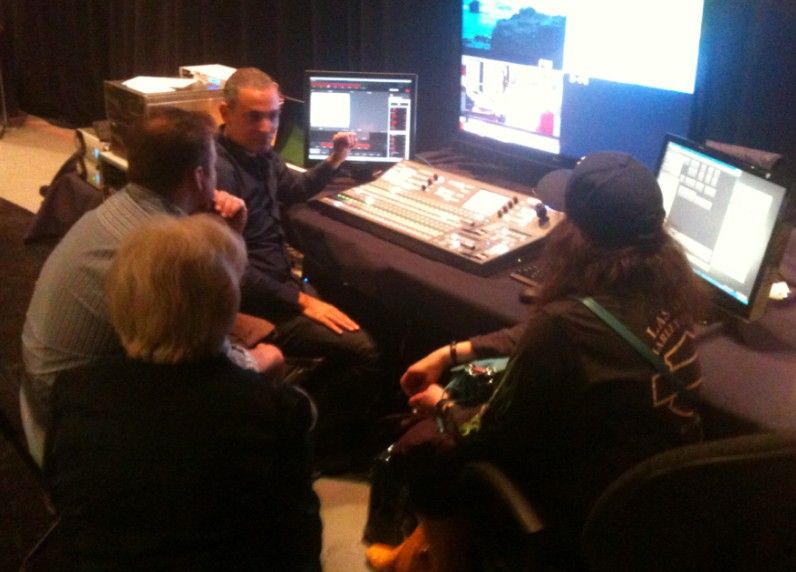 The final exhibitor as we worked our way around the room,
was Ross Video who brought along their new
Carbonite
mixer.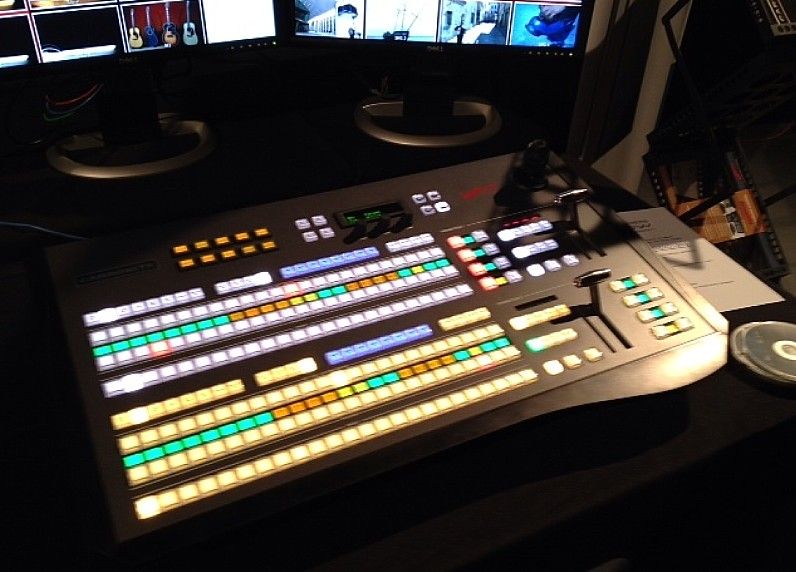 Here Chris Allen shows Guild member Bill Morton a few of the desks new functions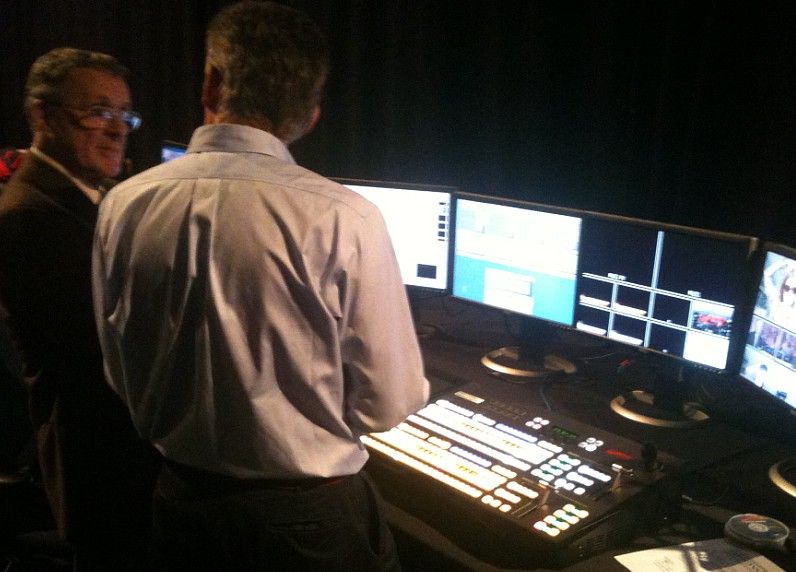 Meanwhile in another part of the room, Paul searched the app store
to find a virtual vision mixing desk for the ipad, but sadly for Sarah & Kay it wasn't to be!
We'll all still have to travel to work I'm afraid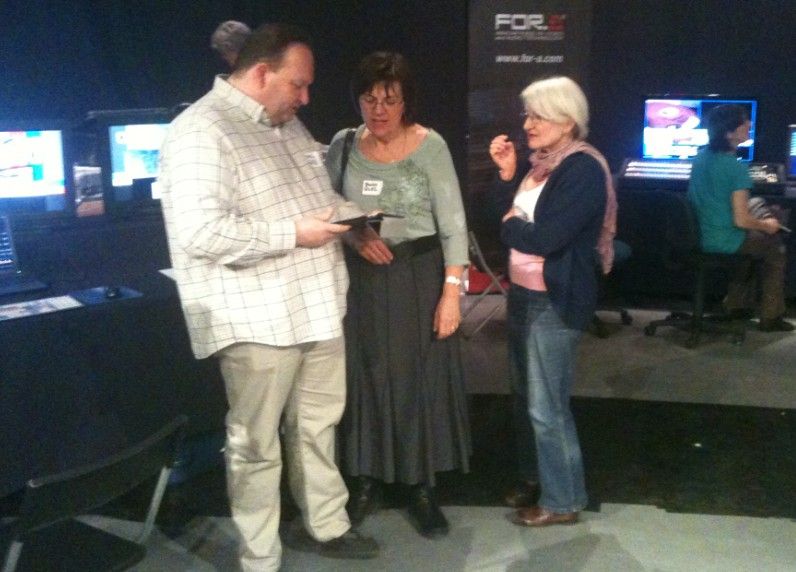 After the fun of playing with all the new toys, it was time to relax and catch up
in the well stocked Riverside Studios bar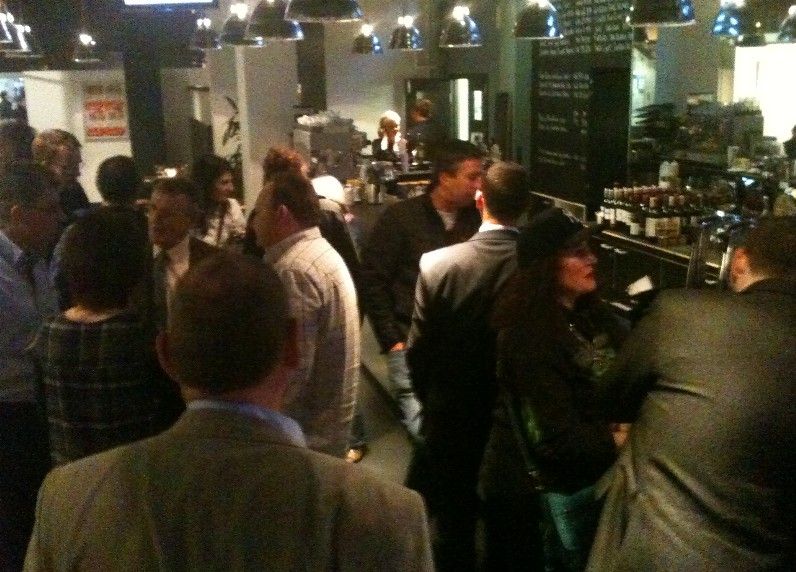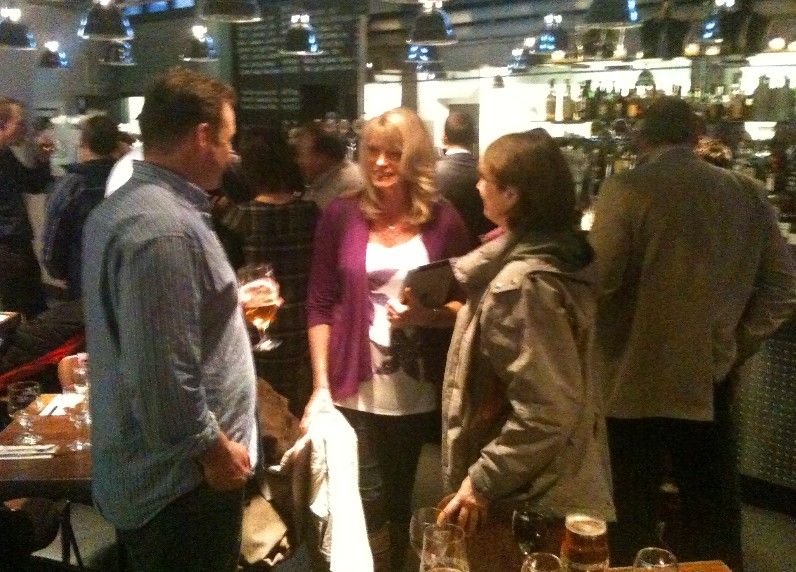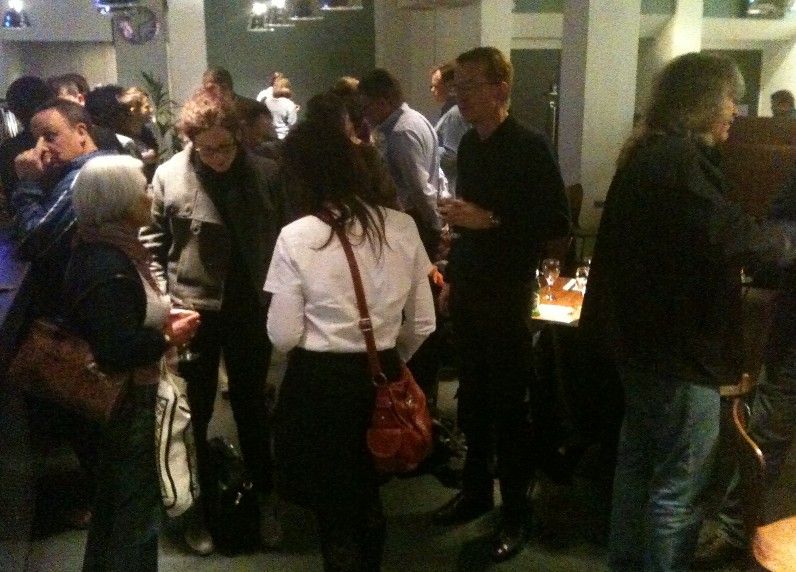 So ends another great Vision Mixers Show,
our thanks go to all those who attended
and especially to those who made it all possible.
Carol Abbott,
Chris Allen,
Trevor Bailey,
Martyn Coates,
Tim Cook,
Monica Coyne,
Abigail Dankwa,
Paul Doyle,
Diana Enser,
Denise Foley,
Mark Foster,
Barbara Gainsley,
Sarah Giles-Harling,
Ema Hamlin,
Kay Harrington,
Jack Horry,
Tammy Kazhdan,
Mary Kellehar,
Trish Lewis,
Julie Mann,
Paul Mitchell,
Naomi Neufeld,
Jez Nicholson,
Stuart Owen,
Martin Perrett,
Sara-Jayne Phillips,
Paul Ribi,
Richard Scollard,
Stuart Suckling,
Nick Swain,
Rory Ward